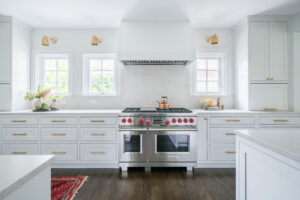 Install kitchen cabinetry created by experienced craftsmen
Nothing goes further in updating the look of a kitchen than brand new, gleaming wooden cabinets. Have B-Squared Woodworks upgrade your Austin, Texas space with a set made by our fine woodworking professionals. We'll present you with a number of quality woodworking materials that are guaranteed to take your kitchen from ordinary to extraordinary and help you maximize the available space in your kitchen. Choose a finish and wood that works for your aesthetic tastes and needs, and our team will take it from there!
We'll have your custom cabinets created in a reasonable time frame. Start planning by scheduling a consultation with B-Squared Woodworks.
Choose the right material for the job
Don't know what type of wood you need for your custom kitchen cabinetry? Let Austin's B-Squared Woodworks help you choose the right material for your needs! We'll educate you and guide you towards the best wood when it comes to functionality and aesthetics. You'll be able to pick from a wide selection of soft and hardwood options, including:
Cherry
White Oak
Walnut
Pecan
Maple
Beech
Alder
Painted, and many more!
Browse our extensive selection of high quality materials. Reach out to B-Squared Woodworks of Austin, Texas to get started!